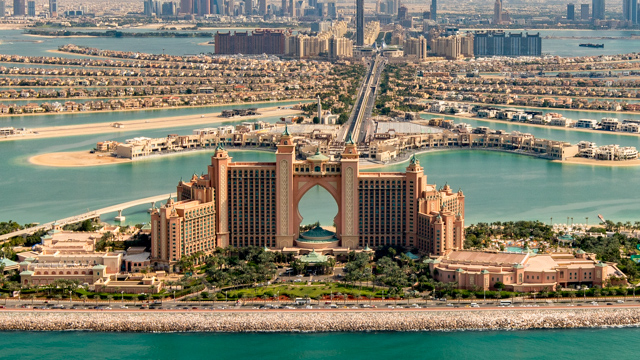 Atlantis The Palm
Some of the best hotels in the world are in Dubai. The Atlantis Hotel for example is located at the Palm Jumeirah. It has its own waterpark and lots of exciting attractions.

Atlantis Special: Show video
Public Transportation: ferry terminal (station: Atlantis The Palm)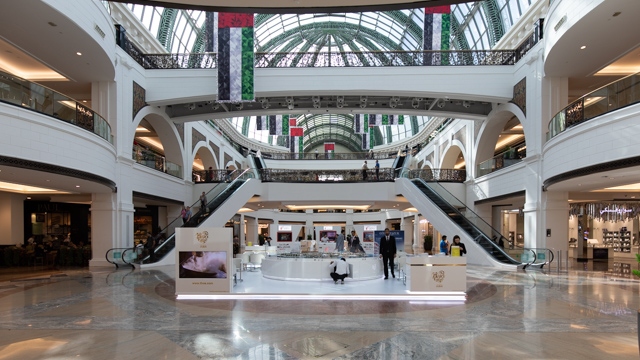 Mall Of The Emirates
A must for all shopping enthusiasts is a visit to the Mall of the Emirates. The shopping centre comprises 630 retail outlets., 7900 parking spaces, over 100 restaurants and Cafes, 80 luxury stores and 250 flagship stores. Besides shopping there are two splendid food courts there and on the lower floor there is a big Carrefour supermarket where you can buy almost everything for acceptable prices.
Admission: free
Public Transportation: Metro (Mall of the Emirates Metro Station 4)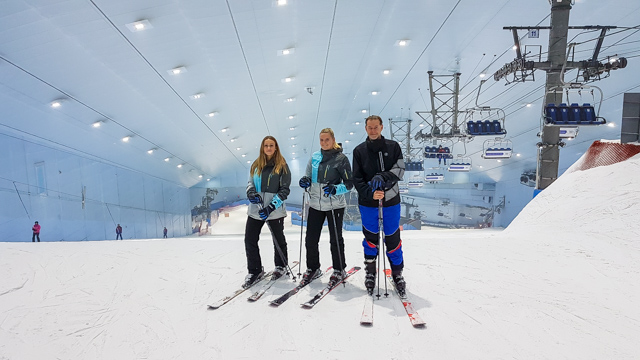 Ski Dubai
Built into the Mall of the Emirates is a gigantic artificial indoor ski resort – Ski Dubai – with 22,500 square meters of indoor ski area. It features an 85-metre-high indoor mountain, a quad lift and a tow lift carrying skiers and snowboarders up to its peak. Adjoining the slopes is a 3,000-square-metre Snow Park play area including sled and toboggan runs, an icy body slide, climbing towers, an ice cave and giant snowballs. Ski Dubai also houses a number of penguins who are let out of their enclosures several times a day.
Admission: The basic package costs AED 190 (46,67€) per adult and AED 170 (41,76€) per child.
Public Transportation: Bus (Mall of the Emirates 1 2, nr. MOE12)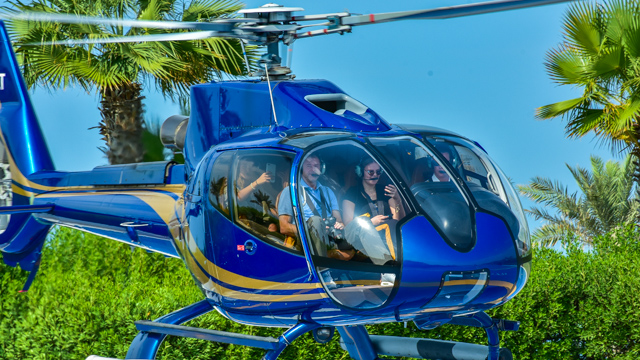 HeliDubai
Helicopter flights can be booked from 12 – 40 minutes according to your budget. A typical flight will cover the Palm Jumeirah island, the Burj al Arab, a glimpse to the World Islands and later on a view to Downtown Dubai with the Burj Kalifah. 
Admission:
Iconic Tour – 12 minutes – 646 DHS (158,72 €) per person – (incl VAT)

The Palm Tour – 17 minutes – 814 DHS (200 €) per person – (incl VAT)

Vision Tour – 22 minutes – 1,045 DHS (158,72 €)per person – (incl VAT)

Odyssey Tour – 40 minutes – 1,838 DHS (451,59 €) per person – (incl VAT)
Public Transportation: railway (station: Mall of the Emirates)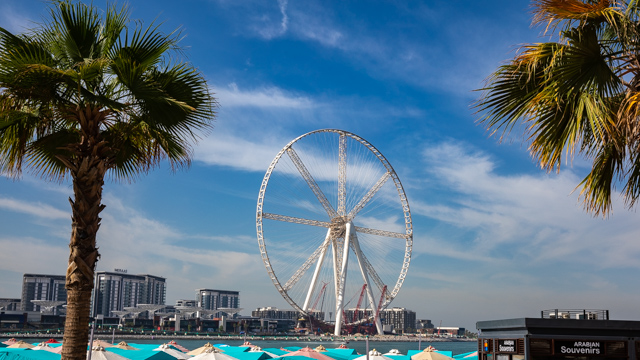 Dubai Marina & JBR
Many skyscapers offer shade over the harbor area at the Dubai Marina with a long pedestrian zone and lots of restaurants and bars. You can find anything from shopping to a nice place at the beach at Jumeirah Beach Resort also known as JBR. It is a 1.7 kilometres (1.1 mi) long, 2 square kilometres (0.77 sq mi) gross floor area waterfront community located against the Persian Gulf in the Dubai Marina. JBR offers a great view of the uprising Bluewater Island with the Dubai Eye, the largest ferris wheel in the world.
Admission: free
Public Transportation: 
Dubai Marina: tram (Dubai Marina1, nr. 21801) / alternative: tram (Dubai Marina2, nr. 21802)

JBR: bus (Marsa Dubai, Jumeirah Beach Residence Station 1, nr. OBH2)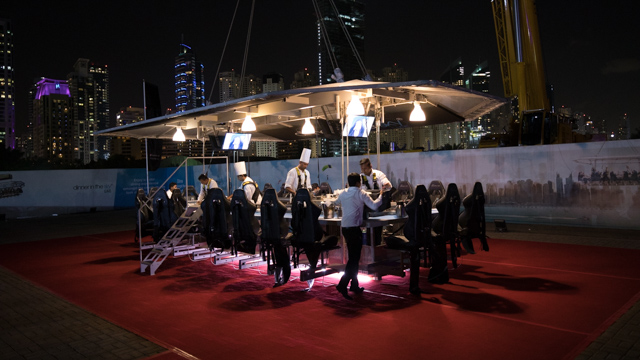 Dinner In The Sky
Dinner in the Sky gives you the opportunity to enjoy a lovely meal 50 meters above the ground. Go there for a meal at night and for a breathtaking view of the sea of lights from the Dubai Marina skyscrapers.
Admission: depending on the session AED 499 – 799
Public Transportation: ferry terminal (Marina Terrace Station, nr. MTWS1)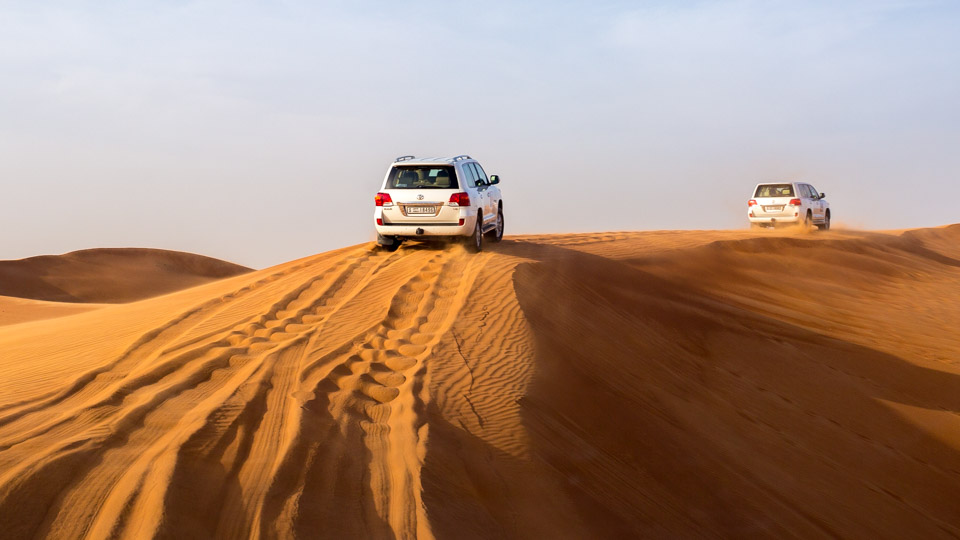 Desert Safari Dubai
On a desert safari, or Dune Bashing tour you will be taken to the sand desert west of Dubai in a four wheel drive car and drive through the sand dunes pretty fast for about half an hour. Typically, the trip ends in a desert camp with dinner and a belly dancing show. These safaris are fairly touristy. For fewer people on board, consider a private trip.
Admission: on average around 50€
Public Transportation: usually a car will pick you up in the morning and bring you to the desert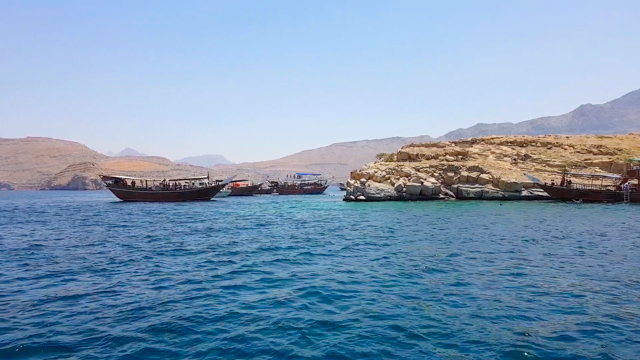 Musandam Tour
A Musandam tour is a boat tour to Khasab which is about two hours from Dubai. You will go there by bus, crossing the border of Oman which is possible with a tourist visa for the UAE. The boat tour will bring you to one of the most beautiful places in the area and give you the chance to swim in the Arabian sea and a nice meal is included.
Admission: depends on what kind of adventure you decide to book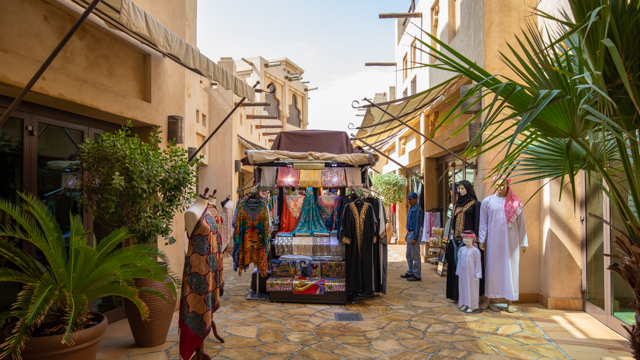 Souk Madinat
For a shopping experience with some Arabic charm visit the Souk Madinat which is located close to the Burj Al Arab hotel. They offer all kinds of goods there, the outside area offers a nice atmosphere and many good places to sit down for a cool drink or a snack.
Admission: free
Public Transportation: Bus (Madinat Jumeira 1, nr. MJR1)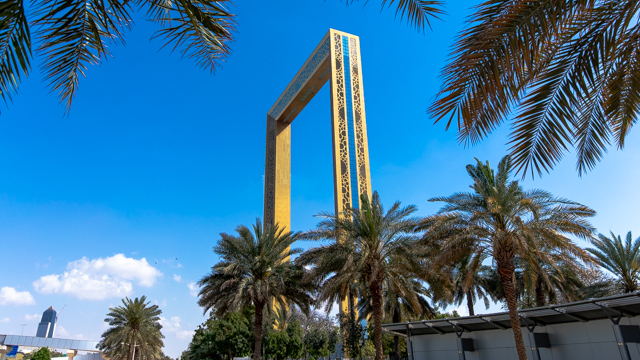 Dubai Frame
The Dubai Frame holds the record as the largest frame in the world. It is 150m high and 96m wide. The frame features a museum about Dubai's rise from a pearl diver town into what it is today. There is also a glass floor at 150m. Before leaving, there is an area about the possible future of Dubai and the Emirates.
Admission: Tickets cost Dhs50 for adults, Dhs20 for children, with free entry for children under three and disabled visitors.
Public Transportation: Bus (Dubai Frame, nr. DFR)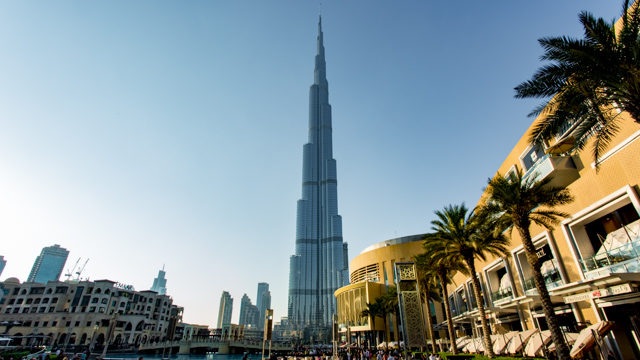 Burj Khalifa
The Burj Khalifa is located in the heart of downtown Dubai. With a total height of 830m it has been the tallest structure and building in the world since 2009. There are two different ways of going up for a visit, both of which must be pre-booked. The standard way is called "At The Top" and will bring you to level 125 and 124. The more exclusive way is "At The Top Sky" which will bring you to level 148 at 550m or 1.821 feet. Additionally, there is a laser light show on the Burj Khalifa building that takes place every half an hour from 6:00 pm to 11:00 pm.
Admission: (Infants below 4 years are free)
At the Top (level 124 + 125): from 36€

At the Top SKY (level 124 + 125 + 148): from 92€

The VIP Lounge Package (level 154 + 152+ 153): from 145€
Public Transportation: Metro (Red Line): Station Burj Khalifa/Dubai Mall Metro Station – F13, 30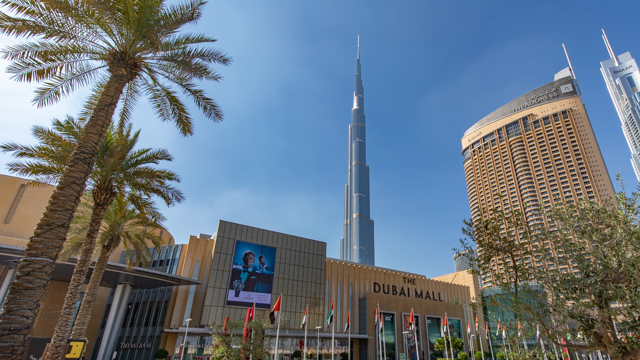 Dubai Mall
The Dubai Mall is right next to the Burj Khalifa and one of the biggest shopping centers in the world. With around 1200 shops, all the great and luxurious brands of the world are represented. The mall also contains a gigantic aquarium, an ice rink and so much more.
Admission: free
Public Transportation: Bus (The Dubai Mall, nr. DM1)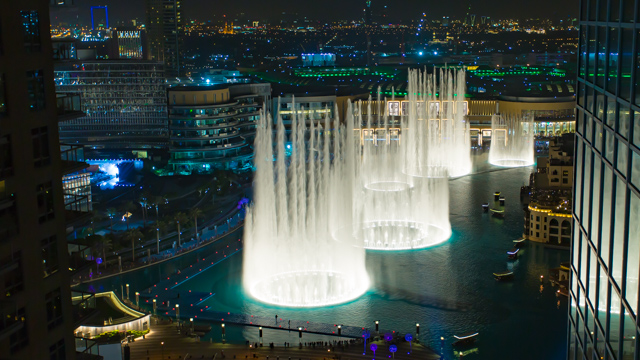 The Dubai Fountains
Next to the Dubai Mall there are the Dubai fountains. This is the world's largest choreographed fountain system shooting water up to 150 meters or 500 feet. Performances take place twice at noon as well as every 30 minutes in the evening and are all accompanied by music played through speakers around the lake.
Admission: free
Public Transportation: Metro (Red Line): Station Burj Khalifa/Dubai Mall Metro Station – F13, 30
Travel By Metro
The Dubai Metro is a driverless subway. It is seen as a very safe means of transport.
Travel By Car
To rent a car, you need an international driver's license, a passport and third-party insurance.
Travel By Taxi
In Dubai the taxi is the cheapest and easiest way to get around. Make sure to get a taxi with a fair meter and not a smartphone.
Travel By Monorail
The monorail was specially built for Palm Jumeirah Island to allow access to Aquaventure, see dolphins, or enjoying the Boardwalk.
Travel By Bus
If you want to spend less on a trip through Dubai, you should do it without a taxi and take the extended Dubai buses instead.
Travel By Boat
Ferry and Water Taxi
If you want to see the sights from a different point of view, you can do this about the Dubai Ferry. It's like a water taxi that takes you from one point to another.
Travel By Cycle
If you prefer to keep fit, there is a wide range of bike rental available in Dubai.
All About The Do's And Don'ts
Do's
Change money in Dubai and not before you arrive.​
Using a Taxi is quite fast, cheap and recommended.​
Shisha bars are very popular.​
Dubai is very hot during in summer. Temperature goes up to 50°.​
It is recommended to visit Dubai in the winter.​
The sun shines most of the day. don't forget proper protection from the sun.​
Don'ts
The UAE is a muslim country, so you should obey a few rules.
Drugs policy. Check medical ingredients.​
Don't do anything with your left hand. Especially not eating or shaking hands.​
Kissing in public or showing any form of affection is discouraged.​
Switch off data roaming.​
Wear modest clothing. Shoulders and knees should be covered.​
Dubai Special Videos Gallery